---
John's talks
– More about John – Books and how to order
Come to a talk! – Some impressions – Contact details – E-mail John now
---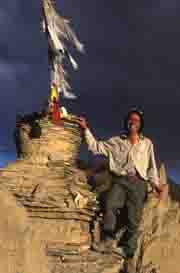 At 16,000 feet in Zanskar
John made his name in the 1980s as a travel writer and photographer, and more recently has become known for his adventure travel documentaries on BBC Radio 4. He has given talks to over 1,000 audiences in five countries, and holds the Royal Geographical Society (with IBG)'s Ness Award for popularising geography and the wider understanding of the world.
Click here to watch his YouTube video.
Scroll down to find out about the talks which bring together some of his most spectacular slides and sound recordings.
Click here to listen to John's 2011 From Our Own Correspondent piece about Afghanistan for BBC Radio 4.

Click here to listen to John talking in 2008 about Butch Cassidy and the Sundance Kid on Radio 4's Excess Baggage.

Talks available:



New for 2014:
A Balkan Adventure

Previous talk:
Georgia to Afghanistan

A Stroll through the 'Axis of Evil'

Heart of the Sahara

Up the Mekong to Tibet

The Royal Road of the Incas

Pilkington in Bolivia

Pilkington in Ladakh

Trespassing in Turkestan

An Englishman in Patagonia

An Adventure on the Old Silk Road

Into Thin Air: A Walk Across Nepal
The talks, which usually last an hour, include stunning digital slides and short stereo sound recordings.
John provides all equipment, including a large screen.
Fee: £400 (€490) plus travelling expenses
Come to a talk! – Book a talk
Mekong video

with thanks to Martin Pailthorpe
---
John Pilkington
9 Culverwell Gardens, Winchester, Hants SO23 9JG, UK
Tel +44 (0)1962 863965 – fax +44 (0)1722 504594
E-mail

---
Travellers or aspiring travellers: try the websites of
Bradt Travel Guides, Lonely Planet or the Globetrotters Club
Lecture organisers: I can highly recommend
Denise Heywood, Catherine Hopper, David Edwards, John Harrison and Paul Deegan
---
Back to top
– John's talks – More about John – Books and how to order
Some impressions – Come to a talk! – E-mail John now